Boyd Kraigher, August 4, 2018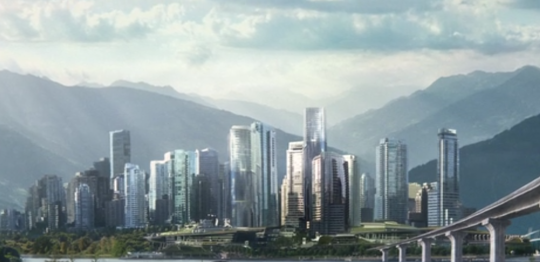 Dear George,
Life finally seems to have some decency after this energetic torture that lasted for two weeks and at the end thrust me in the dream state into the New City of Light Ljubljana, Slovenia.
First, let me thank you for all the energetic updates which I find extremely useful and helpful for me in order to calibrate my personal energetic experiences.
Since July 20th I feel like I am in a no-man-land or rather in between dimensions. Nothing of the old 3D world has any  importance anymore. Feel like my body is on an autopilot now. While I still have to work in order to support financially myself and the family, I am finding living in this world increasingly difficult.
The worst energetic experience in my life began to escalate on July the 26th and was peaking for almost a week when I finally got this dream as a reward. Enjoy it!
I felt that I was sitting on something like a rollercoaster. Soon I realised that this was a bus that was smoothly floating on an invisible track. Beside the driver I was the only passenger in this floating bus. We travelled at a speed of about 500 km/h at an altitude of about 200 m above the landscape.
On the right side I saw very modern looking skyscrapers. They seemed to be made mostly of glass. In between there were many connecting buildings and everything looked like being made of glass and emanated a nice warm feeling.
There were no construction sites, building equipment or unattended land. At first I was surprised to see such kind of a city, as I expected no highrise buildings but rather an architecture that is more attuned to nature in what was shown to me to be obviously the new city of light.
The bus turned left and we began to descend to the ground level still at a very high speed. I really enjoyed this fast and furious ride. I felt excitement but no gravitational force. It was smooth and fast. Then I saw the old part of the city of Ljubljana.  I know this part of the city – it is about 700 meters away from where I used to live. There was almost no traffic or people on the streets. Everything was clean and very well maintained. It almost looked like a 3D museum of what once used to be my native city of Ljubljana.
The bus, number 17, then did a few last turns and stopped on a small station. We were 5 min earlier, so that the driver had a short break before continuing driving towards where I used to live. I only saw 3 or 4 other people on the station. The city seemed to be almost uninhabited and that is why the bus driver could skip many stops and drove as fast as he could. He was really enjoying himself and had a sense of pride being on time and specially being a bus driver.
The new, glass looking, crystal part of the city wasn't built in a conventional way, but seemed as if it had been placed in one piece upon this area, which used to be a more industrial and less developed area of the old city of Ljubljana. I had an immediate knowing that this new modern quarter was now the new educational and hi-tech industrial centre of Slovenia and was thus an integral part of New Raetia.
The new 5D city of Ljubljana is now ready to accept new, more evolved humans who will soon become part of the transgalactic human race.
A real surprise to me was the combination of super modern architecture with the old 3D city connected by an anti-gravity transport system. I didn't see any power lines and definitely no mobile phone towers. No chemtrails. The sky was clean and fresh with blue-pink colour.
Today I feel much better thinking of the city of light – my homeland, which I had the privilege to visit and live there, while my physical body is still on an auto-pilot doing some meaningless work to earn some money to survive.
By the way, the sky bus was free. Looks like there is no monetary system at all in the new city of light. Everything is free. In case the people of today could truly understand what real freedom is?
Welcome to my city of light.
With love and light,
Boyd
P.S. Thank you George, I do realise that without you in the captain seat the future would not be so bright.
________________
Boyd Kraigher is a Slovene and lives currently in Australia and part-time in Thailand. He is a long-standing PAT member. It is remarkable that I told Boyd about two years ago that I see him coming back home to Slovenia to live and create in the city of light New Raetia.