Georgi Stankov, August 22, 2015
This past week the companies listed in the major stock market indices lost more than $2 trillion. This is more than the GDP of the second biggest nation in population – India. This is not peanuts, given the fact that the economies in the west are strangulated by a credit and cash crunch and fortunes exist only on the virtual accounts of banks and companies as worthless CDOs, but not in form of real money to invest or run a business. Equities are still considered to be real cash as one can sell them anytime. But the more the stocks markets plummet, the less can equities shares be sold as this will ruin any company or investor. Hence, even the equity markets that harbour more than $100 trillion fortunes in companies shareholder value on paper and are considered to be one of the most easily accessible forms of money liquidity can only render a very limited amount of cash.
That is why there is now an avalanche of bankruptcies, especially of companies dealing with commodities that were hit very hard by the worst slump in commodities prices since the early 80s. The most severely hit country is Canada whose currency is entirely based on commodities. With plummeting oil price below $40 a barrel and all other commodities prices well above the costs of production, many countries in South America and the Third world are already in recession and impending default.
The only country that really profits from the commodities slump is Germany which is poor in natural resources but the factory of the world. It can now import cheap materials and stay competitive with its industrial products. But this will not help Germany as a whole, as it is hugely embroiled in the Euro crisis. The latter has intensified a notch after the governing left coalition in Greece has split and the prime minister resigned, announcing new elections for this fall. This does not promise anything good for the still impending Euro crisis as Grexit is still a very real menace.
The most positive aspect of the stock market crash that has barely commenced this week is that it has already wiped out almost $200 billion wealth of the world's richest people. And there are much more losses to come in the coming days. There is always an implacable karmic redemption for everything in All-That-Is, even if it may take a long time to happen as linear time is an illusion.
According to Bloomberg, the world's 400 richest people lost $182 billion this week from their collective fortunes as weak manufacturing data from China and a rout in commodities sent global markets plunging. The weekly drop for the Bloomberg Billionaires Index, a group that includes Warren Buffett and Glencore Plc's Ivan Glasenberg, was the biggest since tracking of the expanded list began in September 2014. The combined net worth of the index members fell by $76 billion on Friday alone, when the Standard & Poor's 500 Index of U.S. stocks ended its worst week since 2011.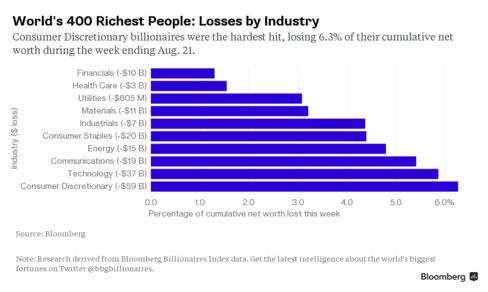 Friday's losses put the world's richest 400 into the red for the year to date. They're now down $74 billion in 2015, with a collective net worth of $3.98 trillion, bigger that the GDP of Germany or Russia. These losses may be a fraction of their estimated wealth, but most of it is property-bound and cannot be monetized into credit or cash. For any owner of companies, it is enough to lose only a fraction of the invested wealth to enter a situation of a sudden credit and cash crunch and not being able to pay the bills and then he must declare a bankruptcy, although he may be still very rich on paper. This fact is not well understood by most people and especially by the Bloomberg's experts who claim that the losses from this week are peanuts for the most wealthiest people in the world. They are definitely not.
The week's largest setback in dollar terms was experienced by Buffett, who saw his fortune drop by $3.6 billion as Berkshire Hathaway Inc. slipped more than 5 percent. The investor is the world's third-wealthiest person, with a fortune of $63.4 billion, according to data compiled by Bloomberg.
Indeed it may get very ugly for Warren Buffet, who in July acquired, through Buffett's Berkshire Hathaway and 3G, a 51 percent stake in Kraft, after Heinz closed on its purchase of Kraft. Kraft Heinz instantly became the third-largest food company in North America, with global sales of $29 billion last year. But the compound annual growth rate of the packaged food industry in North America has been less than 1 percent for almost 10 years, with an estimated annual inflation of more than 10% for all food products, a fact that again confirms the current Greatest Depression of all time. I see Warren Buffett as a first-wave bankruptcy candidate when the real collapse unfolds the next month.
The slump in oil, which had its longest weekly losing streak since 1986 amid signs of an extended supply glut due to the Greatest Depression, contributed to $15.2 billion in losses for the world's wealthiest energy billionaires. Continental Resources Inc. Chairman Harold Hamm saw $895 million, or 9 percent of his net worth, vanish this week. Glencore's Glasenberg, chief executive officer of mining company Glencore Plc, lost $237 million during the week as commodity prices slid to their lowest levels in 13 years. Glencore reached a record low in London on Friday, down more than 8 percent from a week earlier, after the trading house reported its profit sank 56 percent in the first half of the year. Glasenberg's fortune has decreased more than 40 percent in 2015, to $3.1 billion.
China's 26 wealthiest people, pummeled by Hong Kong's bear market and a weaker yen, lost $18.8 billion during the week. Wang Jianlin of Dalian Wanda Commercial Properties Co. was hit hardest, losing $3.5 billion.
Now extrapolate these losses to the big Orion banks that are leveraged by a ratio of more than 1 to 50 and have heavily invested in stock markets and you can easily estimate that the drop of 8% t0 10% of the stock indices from the highest values this week has practically wiped out all the bank reserves of less that 2% capital to debt ratio. And as I already said, this is just the beginning. The pain can only increase with each day and hour from now on. It is an avalanche that is triggered by a small snowball before it buries the whole Western Orion-Ponzi economy underneath.
And what is most important to keep in mind, this time there will be no respite for the banksters and the dark ruling cabal that can allude to a treacherous calmness and allow humanity to continue rolling like a pig in its own filth and pretend to live in the best of all possible worlds. The time of illusions has come irrevocably to an end. Humanity is ready for ascension and Gaia has already ascended and can no longer wait for humans to resolve their mess in the old dysfunctional way. Divine intervention must and will come.